Analyzing Global Patterns with Earth System Poster Activities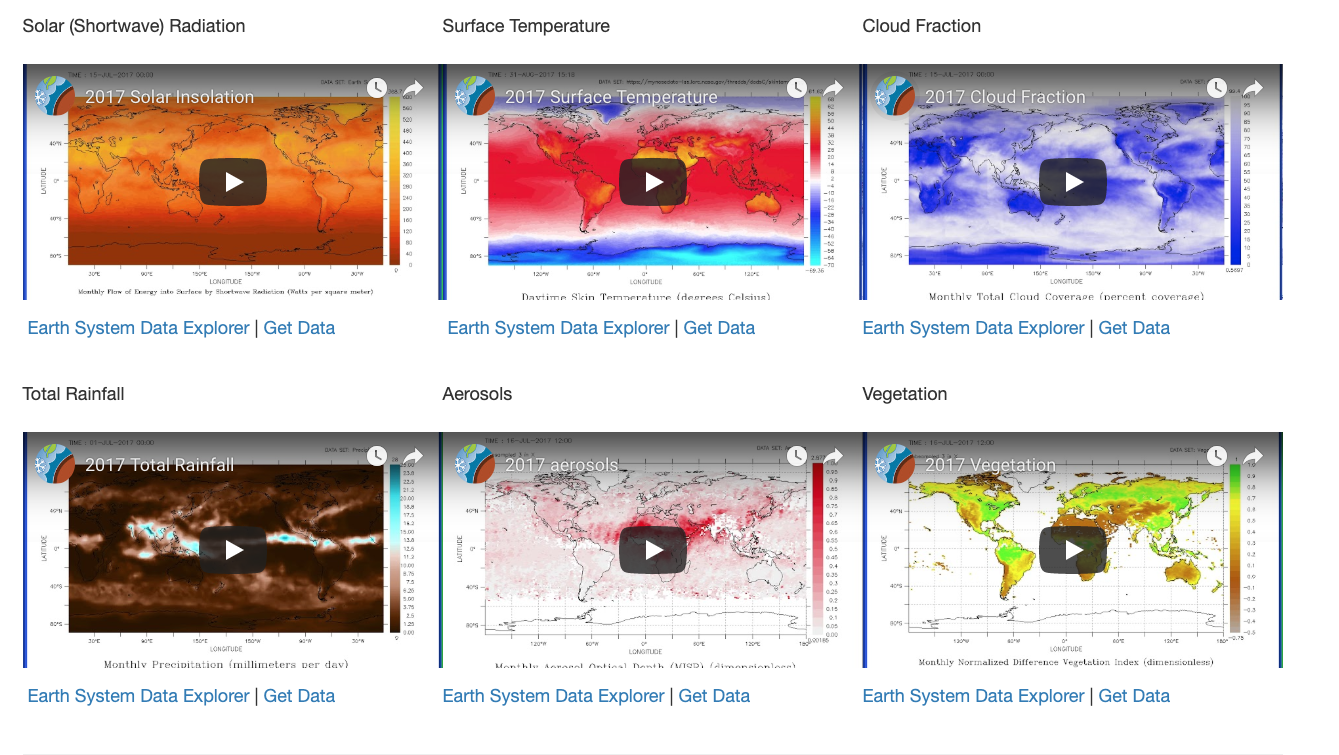 This digital GLOBE Earth system poster provides animations of the Earth Systems data for 2017 to find patterns among different environmental data, understand the relationship among different environmental parameters, and explore how the data changes seasonally and over longer timescales. 
​Explore the digital GLOBE Earth System Posters in either animation form or the poster cards showing change in the Earth Systems data for 2017 and 2018. These data visualizations can be used to help students find patterns among environmental data, understand the relationships among different environmental variables, and explore how the data change seasonally and over longer timescales. These resources supplement the Earth System Poster Card Learning Activity Guide that helps the learner to analyze and interpret these Earth Systems resources.  
2018 My NASA Data/GLOBE Earth Systems Poster Cards:
Download all 2018 poster cards here.
Archived Versions:
Using the GLOBE Digital Earth System Posters in the Classroom
Do you need ideas for how to use these resources in your classroom and connect them with the Next Generation Science Standards?  See the links below:

Teachers:  This is an NSTA-vetted resource.  Read the NSTA review of this lesson for ideas on how to adapt it for fuller NGSS alignment. 
---
Description of Earth System Datasets Available in the GLOBE Digital Posters:
Solar (Shortwave) Radiation - Is the amount of incoming energy from the Sun in the form of visible light (i.e., shortwave radiation) reaching the Earth's surface. This energy reaching the surface is also known as Solar (Shortwave) Radiation. These images are derived from measurements collected by the CERES instrument aboard, NASA's Terra and Aqua satellites.
Aerosol Optical Thickness (AOT) - Is measured by MISR aboard NASA's Terra satellite. AOT is a non-dimensional measure of the amount of particulate matter suspended in the atmosphere.
Cloud fraction - Is measured using MODIS aboard NASA's Terra and Aqua satellites. Cloud fraction is the fraction of Earth's surface covered by cloud.
Surface Temperature - Is the surface skin temperature derived from CERES measurements. The surface skin temperature is the radiating temperature of the surface and has also been defined as the temperature 2 cm into the surface. This surface skin temperature corresponds to the Reynold's sea (ocean's) surface temperature.
Vegetation - Aboard NASA's Terra satellite, MISR measures the Normalized Difference Vegetation Index (NDVI) using a comparison of visible and infrared wavelength emission.
Total Rainfall - is derived from the Global Precipitation Climatology Project (GPCP), which measures radar and microwave data that measure the vertical distribution of precipitation over the tropics in a latitude band between 35 degrees north and south.
---
2018
| | | |
| --- | --- | --- |
| Solar (Shortwave) Radiation | Surface Temperature | Cloud Fraction |
| Total Rainfall | Aerosols | Vegetation |
2017 
| | | |
| --- | --- | --- |
| Solar (Shortwave) Radiation | Surface Temperature | Cloud Fraction |
| Total Rainfall | Aerosols | Vegetation |