GLOBE Atmosphere - Additional Resources
The GLOBE resources on this page support student exploration of My NASA Data Atmospheric phenomena. These include campaigns, eTraining, and how to find related student projects. 
eTraining
For online eTraining on GLOBE atmosphere protocols, visit the Atmosphere eTraining page.
Introduction to Atmosphere - Learn about the GLOBE student investigations that explore the Earth's atmosphere, weather, and climate. After completing this module, you will be able to describe the structure and composition of the atmosphere and explain how differential heating of the Earth's surface generates our planet's air circulation patterns. You will be able to identify the atmosphere as one of the interacting components of our Earth system, and become familiar with the Atmosphere Protocols followed by GLOBE students when they collect data for their scientific investigations. Finally, you will explore the steps of setting up a GLOBE Atmosphere study site for and be introduced to GLOBE data reporting and visualization tools.

In order to enter data for a protocol, you will need to complete the Introduction to Atmosphere module and the protocol module. In addition, there may be supporting protocols required. 
Campaigns
GLOBE campaigns are a great way to explore different phenomena. Students have the opportunity to use GLOBE protocols and submit data in conjunction with students around the world. These data will contribute to the goals of the campaign in addition to facilitating student learning.
Cloud Challenges 
There are periodic challenge periods to engage students in collecting (and submitting) cloud data using the cloud protocol. Check the GLOBE Observer Data Collection Challenges page to see if there is a current challenge. Of course, you can ALWAYS make cloud observations and submit your data. In addition, resources are available on pages detailing previous challenges such as the Fall Cloud Challenge: What's up in your Sky? 
The University of Toledo is leading annual field campaigns focused on the impacts of urbanization on Earth's temperature. Help the scientists answer "How does surface cover of an area affect its surface temperature?" Set up research studies at your school looking at the differences of surface temperatures for different land cover.
Student Projects
Find student projects related to the phenomenon you are exploring. These projects can be used as background research for younger students, or as models for student projects. There is a search filter available to find the projects you would be most interested in seeing. Students can also submit their own reports on the same page.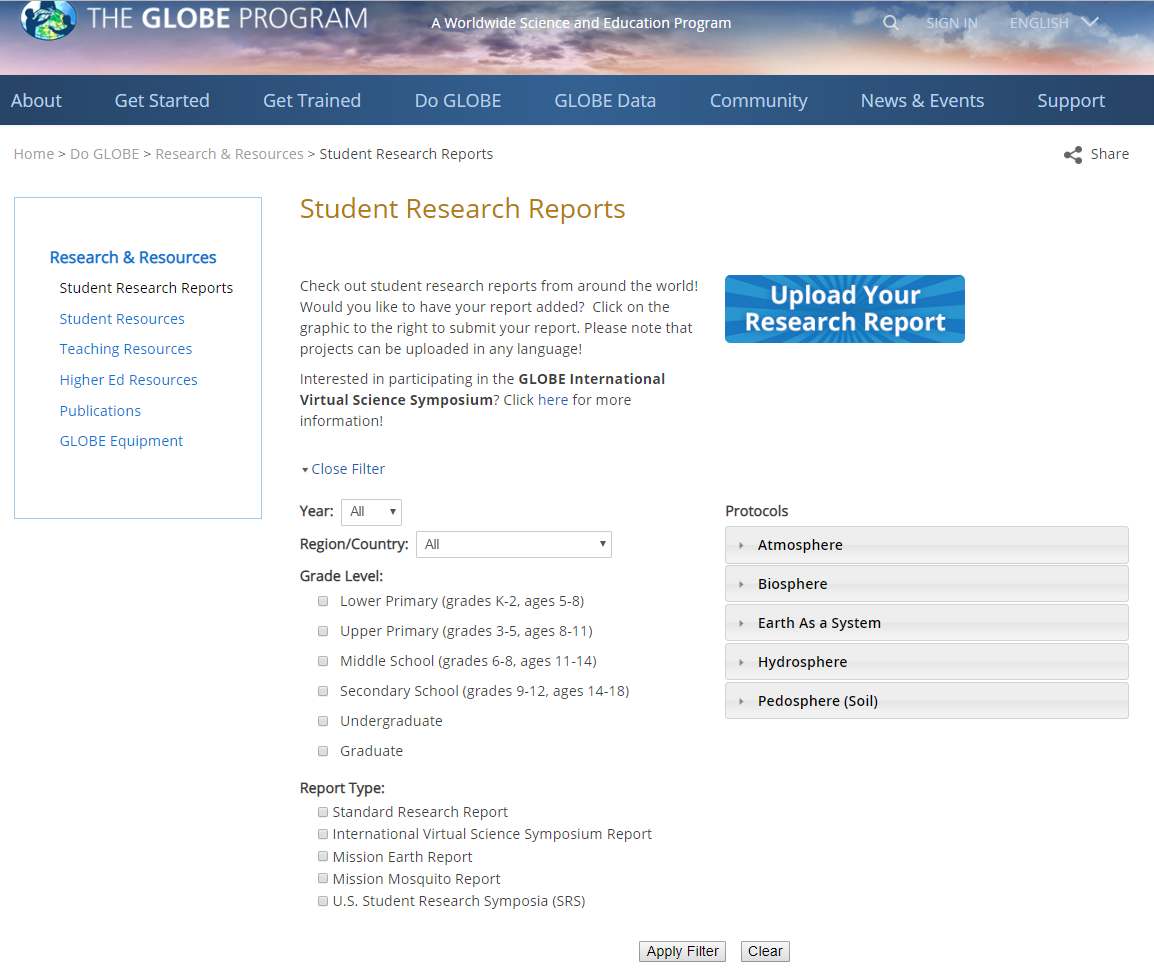 You can filter on the following:
Year
Region/Country
Grade Level
Protocol - all GLOBE protocols are available
Report Type - The report type options are different forums available for students to submit their work. 
There are also mechanisms for students to participate in the International Virtual Science Symposium and Student Research Symposia. Check them out!